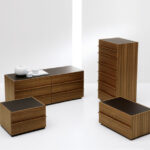 Aki
Linear and functional containers
Aki is a family of containers with drawers.
The linearity of the design is characterized by the handle which enhances the absolute graphic purity of this detail, aesthetic and functional at the same time, and gives it an elegant side profile.
Available with different colour combinations for the top and structure.
REQUEST FURTHER INFORMATION
Description
*lacquer glass in our standard colours.